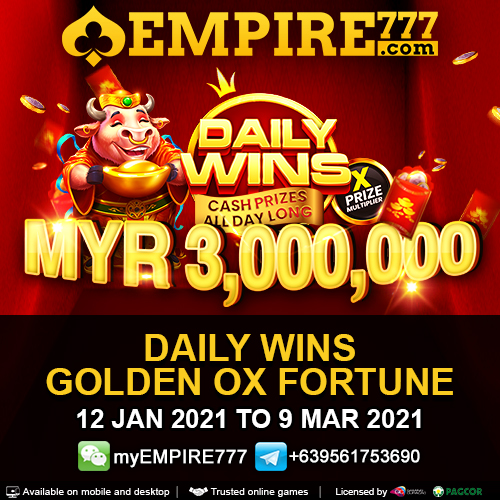 400% NEW YEAR DEPOSIT
Promo code: 400NY_BONUS
HOW TO CLAIM 400% NEW YEAR DEPOSIT BONUS
To qualify, players must make their first minimum deposit of MYR 100/ THB 1,000/ USD 25(VN)/ USD 50(JP) during the promotion period.

Players must click "CLAIM NOW" and select the game type of their choice and submit the Cashier ID of their successful deposit.

To get your Cashier ID, login to your EMPIRE777 account, select "MY ACCOUNT" to access your "Cashier History" and the Cashier ID will be displayed under the ID column as shown below.



This bonus can only be claimed once for every successful deposit. In the event of unclaimed multiple successful deposit, only the most recent transaction will be qualified for this promotion.

Players must claim the bonus within 2 hours after making the successful deposit.

To get the Extra Bonus MYR 188/ THB 1,888/ USD 38(VN)/ USD88(JP) players are required to claimed all 6 MAXIMUM payout bonuses and this will automatically be credited to the player's bonus wallet. This Extra Bonus will be credited to the same game type that the player chose on their last claim (6th).

This bonus will be processed and credited to the player's EMPIRE777 account within 6 hours upon claiming.
TERMS AND CONDITIONS:
Promotion period: 04 JAN 2021 00:00 - 17 JAN 2021 23:59 (GMT+8)

All EMPIRE777 players are qualified for this promotion.

Upon verification and approval, players with a minimum deposit of MYR 100/ THB 1,000/ USD 25(VN)/ USD 50(JP) will receive their bonuses according to the table below:

EXAMPLE CALCULATION 1
This chart and calculation is based on the assumption that you deposited the exact amount to claim the maximum payout bonuses in EMPIRE777.
EXAMPLE CALCULATION 2
This chart is based on the assumption that you deposited the standard minimum amount required to play in EMPIRE777.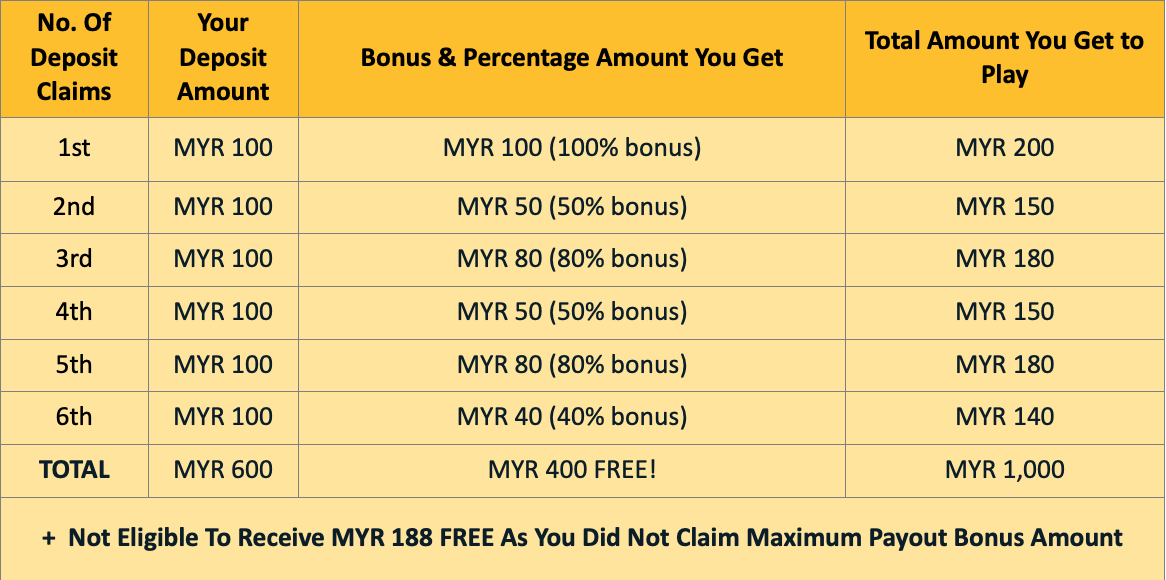 The "400% New Year Deposit Bonus" will be restricted to a specific game type selected by the player upon claiming. Once selected, players will not be able to change their chosen game type.
The bonus will be restricted to the player's selected game type until the player finishes the wagering requirement for this promotion.
After finishing the wagering requirement, bonus will be converted to the player's cash wallet.

Please refer below table for the computation of wagering amount.

Example: (with MYR Currency)

Wagering Calculation: (Bonus x Wagering Requirement)/ Percentage of Wagering+ Deposit

Wagering requirement will start to count after player receives the bonus in their EMPIRE777 account. All bets beforehand will not be counted as wagering for "400% New Year Deposit Bonus" promotion.

Players with remaining balance of more than MYR 1/ THB 5/ USD 1 need to complete their existing wagering requirement from any bonus before claiming "400% New Year Deposit Bonus"

Bonus will be forfeited when a player bets using cash and bonus wallet that is not their selected game type.

Bonus will be forfeited when a player withdraws before receiving bonus.

Bonus wallet does not apply to Beer Game Room and Other games.

Claiming "400% New Year Deposit Bonus" will no longer make you eligible to claim 10% Reload Bonus and Weekly Rebate Bonus.

Should the player wish to switch to 10% Reload Bonus or Weekly Rebate Bonus, player can only change it on the following week and will no longer be eligible to continue the "400% New Year Deposit Bonus".

Wagering requirement from this promotion will not be counted for any "Rebate Bonus" promotion.

This bonus cannot be claimed in conjunction with any other promotions currently offered.

EMPIRE77 reserves the right, at any time, to alter these terms and conditions at its sole discretion which includes canceling, modifying or suspending the promotion.

General Promotions Terms and Conditions apply.

General Terms of Use apply.
Daily Wins and Cash Drop
Get prize everyday this season at EMPIRE777 with a total prize pool of USD750,000/ MYR3,000,000/ CNY5,000,000/ THB22,500,000! Fill your pockets with thousands of cash prizes to be won from the Weekly Cash Drops Multiplier. Promotion period 12 Jan Time 00:00 to 9 Mar 2021 Time 17:59 (GMT+8)
All Pragmatic Play games except Money Roll, Irish Charms, 888 Gold, Diamonds are Forever 3 lines, Queen of Gold, Table Games and Video Poker.

HOW TO JOIN
To qualify, player must play any of pragmatic play games except for the excluded games in the given period to participate in the Daily Wins. Prizes will be credited after tournament ends or once the prize drop is triggered.
TERMS AND CONDITIONS: